Sterling Silver Clan Crests
Own the shiny one! Our high polished, family-heirloom-quality crest badges are made from solid Argentium sterling silver in a multi-step fabrication process. We have received testimonials from around the world from our thrilled customers.
We offer a range of crest options: available as pin, pendant or bolo, and more (including Gold).
Badges of rank including Armiger, Chief and Chieftain are available. Custom variations and personal crests quoted on request.
Why Argentium Sterling? Brighter finish and more tarnish resistance than traditional sterling. Learn more about our craftmanship.
Search for your Scottish Crest Badge from our 180+ gallery of badges. Contact us to add your clan. No clan is too small!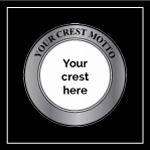 Custom Badges
Personal crests and custom crest badge designs quoted upon request with submission of artwork. Contact us to to discuss your custom crest badge.
Personal crests often use a plain circlet. Add one, two or three feathers for Armigers, Chiefs and Chieftain badges - see our specialty badges page for examples.